Monthly Archives:
December 2015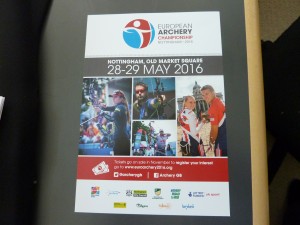 Look what turned up in the latest copy of Bow International the other day, a flyer for the European Archery Championships 2016 in Nottingham.
The final weekend sees the compound finals on the Saturday and the recurve final on the Sunday, spread over 2 sessions per day.
We bought our tickets when they were first released and chose the undercover seating, as you never know what the weather will be like in May in the UK.
The hardest choice was which side of the archer to sit. I was thinking about compass points and where the sun would be on the day, but I suppose I should have really thought about whether the archers would be facing us or not depending on whether they are left or right handed, as you really want the archer to be facing you in the audience not with their back towards you! I imagine most archers are right handed, even though I myself are left handed. Never mind too late now, we have the tickets, at least I'll try and remember that for next time.
I'm looking forward to the European Archery Championships 2016, my first real professional tournament as a spectator.
Welcome to the first post of my new archery blog. I hope to bring you a collection of archery news, archery equipment reviews, archery book reviews, archery tips, archery videos and much more.
To find out more about the blog and about me please read my about me page.
Thanks
Daniel