Tag Archives:
portsmouth
This weekend I managed to injure my knee by twisting it coming off a ladder at home. Very painful and difficult to walk although it did not stop me shooting a Portsmouth round on Sunday at the club and hobbling around.
It turned out that on the first nominated Portsmouth round of the year I managed to equal my Personal Best of 543 again! Even though I felt the score was higher when I shot it. I don't like adding up as I go, as I think doing it may put me off.
Got home and entered everyone's scores into Golden Records and it turns out that it saw the score as a Personal Best even though the score was the same as a previous one but because I scored 1 more gold this time – 24 instead of the previous 23.
What does it take to get over 550 and not just over 550 for a Portsmouth badge but 554 for a C classification!
Today was one of our last chances to shoot a Portsmouth before the indoor season finishes and we move outside in early April.
Having been told to change my release has really helped. Previously I was just releasing under my chin and not drawing the release back. I do find that releasing back has helped a lot and it also seems to keep the string in a straight line as it comes back through.
I still lost some of my energy and felt the bow move around a bit when I had about 6 ends to go. In the end I finished with a personal best of 526, my previous was 524. It was also nice to have a 10 10 10 end.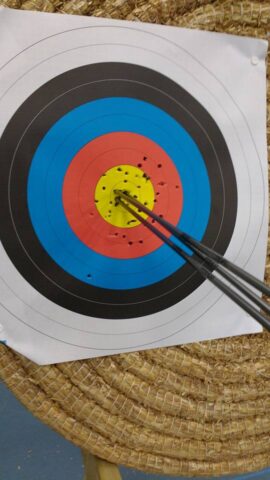 I did drop the odd shot with my worst scores being 2, 5 and 7.
This puts me in a good mood with the Fenland Archers Portsmouth 2016 shoot next Saturday 19th March.
Today was the 1st archery shoot after Christmas, and I hadn't shot since well before Christmas. I always had the intention to practice over the Christmas period but never managed it with the weather being so bad outside.
Well anyway we shot a Portsmouth round today to ease ourselves back in to shooting. It didn't go too badly but I only managed a 464 score, which is only an E classification. I think the problem is that I did not start getting 9s and 10s until about half way through the round. The problem seemed to be getting the correct string picture then I was away. But after this and towards the end of the round fatigue started to set in, as I knew it would pulling 38lb and not practicing for several weeks.
It's amazing how many people got Santa to bring them some new archery equipment. Such things purchased included new archery bags, new long rods, new arrows, risers, limbs, sights, strings etc. There must have been at least 5 people out of 15 with some sort of new equipment.
Mike W. pictured with his 10 10 10 end today.