Monthly Archives:
October 2017
On Sunday 1st October 2017, the day after the CAA shoot a few of us attended the Parkfield Archers end of season handicap shoot.
Mike W, Rob, Mel, Ian C, and myself journeyed just down the road from Ely to Parkfield Archers at Wimblington to take part in their end of season handicap shoot.
Parkfield had chosen a Western round. Rob shot a Short Western (50 and 40 yards) on his American Flatbow whilst everyone else shot a standard Western (60 and 50 yards) on their recurve bows.
We set up the event tent in light rain, but managed to avoid any other rain after that, but it was very windy. At one point Mel's Danage target boss fell over with his arrow still in it – breaking it. The club did kindly contribute to the cost of replacing it. I could see why this happened though as the Danage only had floor pegs, we usually also put guy ropes on ours at the back.
I managed a personal best – mainly because I had never shot a Western round before. My final score was 688 with 28 golds.
Despite the weather Ely Archers all managed to come home with medals:
Western 2nd Place – Mike Williamson
Short Western 2nd Place – Rob Edson
Overall Archery Team – 3rd Place – Mike, Mel, Ian and Daniel
Ian also managed to win the raffle – with first choice on the raffle prizes – even though he'd gone home already.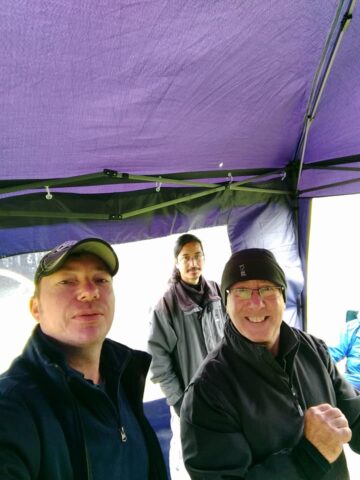 On Saturday 30th September 2017, I attended the CAA end of season handicap shoot in Cambridge. The shoot was totally free to attend and open to just Cambridgeshire based clubs. The rounds available were Long Metric rounds. I decided to shoot a Long Metric I which is 70m and 60m.
This was the first time I had ever shot 70m away from the archery club, so was a bit daunting. There was a medium breeze – 10mph, but it was a nice bright sunny day. The wind seems to move around a bit so it was hard to get into a rhythm. Some shots would go where you pointed them and others would not.
I also set up my scope on the line, but only used it for a few 70m ends at the beginning. My sight marks seemed way off from the marks at the archery club which are usually 6.6 and today I was shooting with them at 6.2 this fact then worried me that when I changed to 60m these marks would be way off as well – but luckily they were OK.
In the end I came 9th out of 39 seniors with a score of 529. If the shoot wasn't handicapped I would have won the Gents Recurve Long Metric I. That's handicap shoots for you! Although some ladies did beat me by around 10 points.
A great free shooting day and I was reasonably happy with my efforts. It was still nice to shoot above my handicap and gain a new personal best score. I'll be attending next year!