Monthly Archives:
September 2016
I have only ever taken part in indoor archery competitions until last Sunday when I took part in my first outdoor competition. Louise and I went to the Jolly Archers shoot at King's Ripton, Huntingdon. I decided to play it safe and shoot the Bristol II which is 72 arrows at 60 yards, 48 arrows at 50 yards and 24 arrows at 40 yards, so 144 arrows in total + sighters.
I could have shot the Hereford round which starts at 80 yards – maybe next year.  Louise bought their line tent, and I amazed how everybody had the same tent, even down to the colour! Everyone had green, although apparently you can get them in grey. I think if you don't have a tent you'd look out of place.
It was certainly different to be shooting 3 arrows, swapping details then shooting another 3 – it was like being indoors again.
The 60 yards was bit dodgy, but my sight marks for 50 yards were way off so my 1st end at every new distance was quite a low score. But in the end I had 1020 out of 1296. A 2nd class score, and probably the maximum you can get anyway. That's a 7 score average. My 60 yard distance average was 6.5, 50 yard was 7 and 40 yards average was 8 per arrow.
We both came away with 1st place medals, but it seemed like so many people got medals, hardly anyone was missed out. I think the problem is with having all the different age ranges, genders, distances and bow types. There just too many variations – then there are the team awards.
An enjoyable, but a long day (the toilets are about 200 yards from the shooting line, plus the breaks weren't that long).
Here we are in the car at the end with our medals: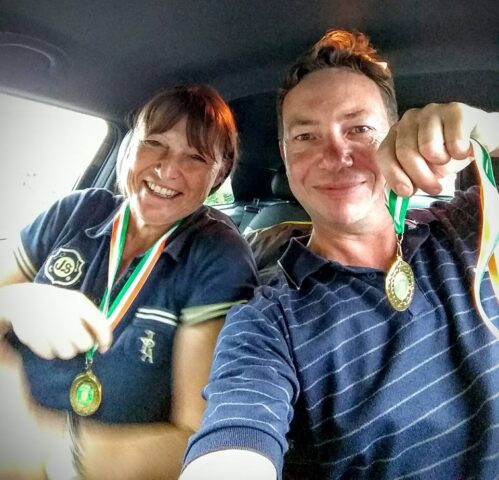 I had been using Mybo Aeris long rods and short rods for a while. My short rods are 15" and so quite long. I also had some problems with the V bar and extension moving around whilst shooting. So I had been looking out for some used HMC 22 stabilisers. I found a whole set on eBay and decided to watch them and then have a bid on them. IN the end they went for only £40 less than buying them new. But after seeing the HMC 22 sets they are still quite thick, so would still catch the wind a bit. I then learnt that Win&Win had also released a new version of the W&W WiaWis ACS Nano stabilisers.
I liked the fact that they had also released matching extenders and v-bars. I decided to order the 10" W&W WiaWis ACS Nano short rods, 4" extender and the carbon v-bar from Merlin. The delivery was super quick as the items were in stock. I decided to keep my Mybo Aeris long rod, although I may change the long rod at some point in the future.
When the items arrived in the box they certainly didn't look like I'd spent nearly £150. But the items soon add up. But as soon as I had opened the items the build quality looked amazing. These things look like real quality. What I couldn't quite work out is why the Mybo Aeris cost more than the new W&W WiaWis ACS Nano short rods.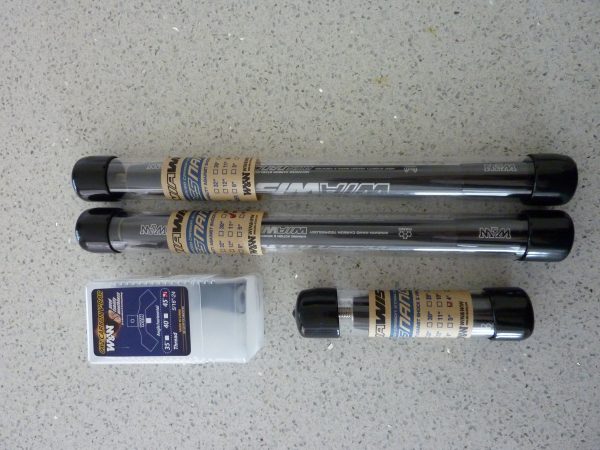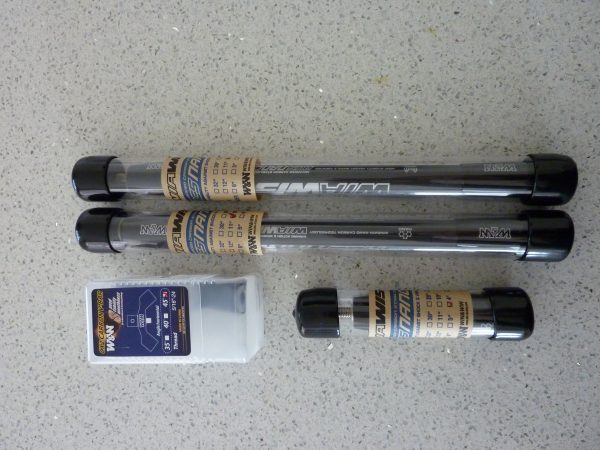 Everything arrived in nice tubes and plastic tubs. Each item arrived with some nice transparent thin washers to help everything screw together tightly. You don't get any extra weights with them, just the standard ones. Although extra ones can be ordered for a few (£) pounds each, if you can find them. This was a bit of a shame as you get a few with the Mybo ones and you can configure them how you want on the Mybo short rods.
Putting the v-bar, extender and short rods was really easy and they all looked really good. I just had to remove one of my weights from the long rod to balance it all up. You balance the setup by turning your bow upside down and placing your finger about an inch along the extender from the edge of the riser, and make sure it balances.
I also decided to weigh the WiaWis setup when it was attached to my Mybo long rod and compare that to the setup with the Mybo short rods. I also weighed each individual items, here are the findings:
Mybo Aeris 30″ Long rod + Mybo Extender + Mybo V-Bar + Mybo Aeris 15″ short rods = 980g
Mybo Aeris 30″ Long rod + WiaWis Extender + W&W CX2 V-Bar + 10″ W&W WiaWis short rods = 750g
Mybo Extender = 90g
W&W WiaWis Extender = 60g
Mybo V-Bar = 50g
W&W CX2 V-Bar = 50g
One nice thing about owning the matching long rod is that the long rod has an extra long thread allowing you to get rid of the v-bar connector, as the long rod can then connect directly to the v-bar, saving around 40g in weight.
But how do they dampen? Well, no very well indeed is the answer. There is no comeback after release, no shake, no wobbles. I love them, worth every penny. Plus they are thin, and take up less space in my kit bag.
If you want to have a closer look at the W&W WiaWis ACS Nano stabilisers I have created a video review on YouTube here.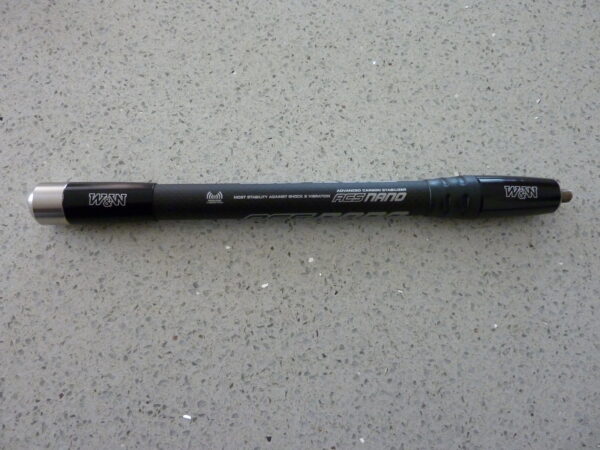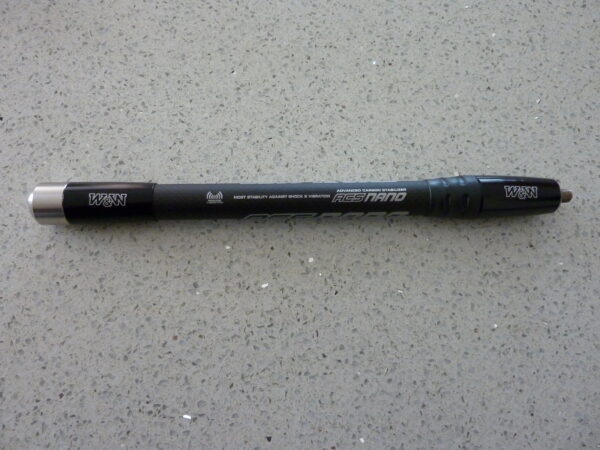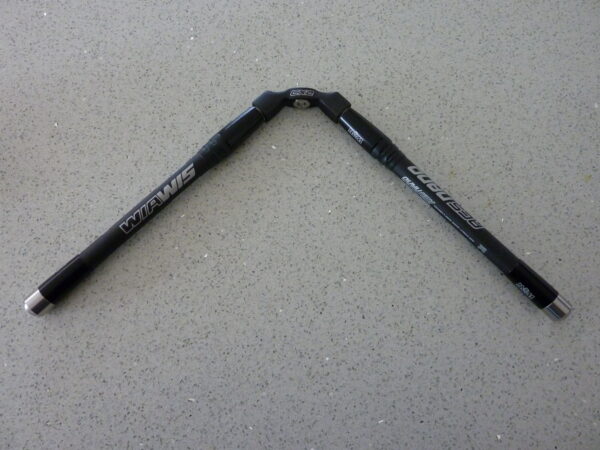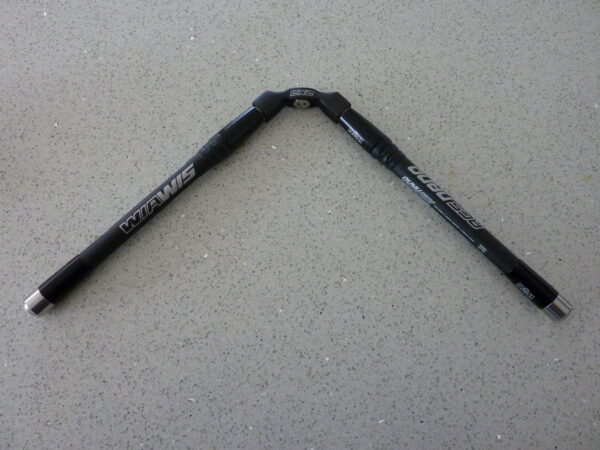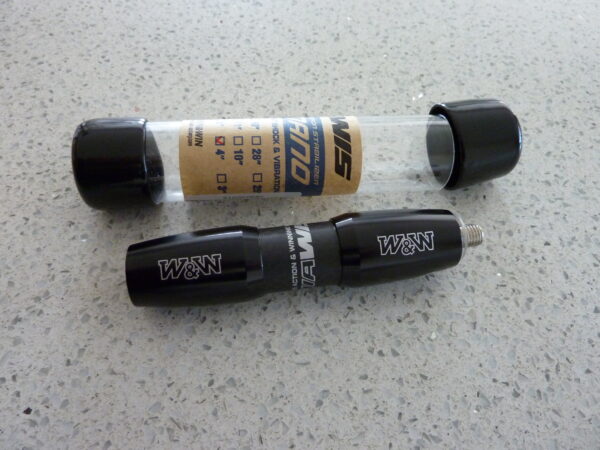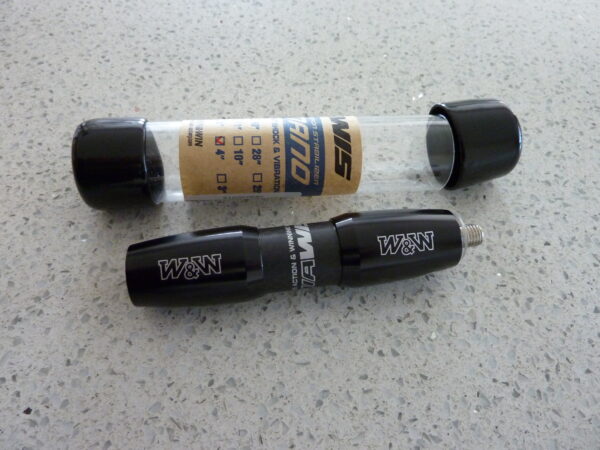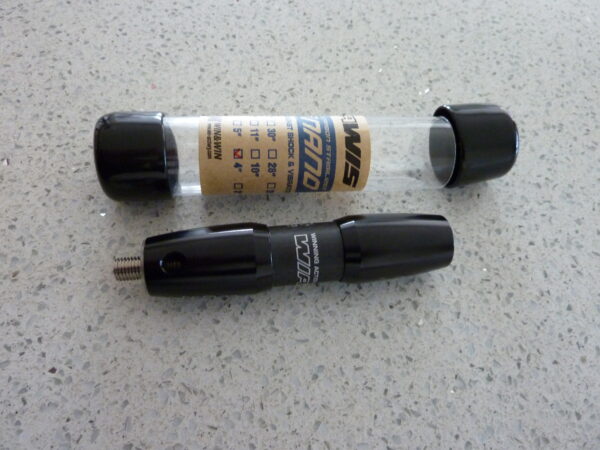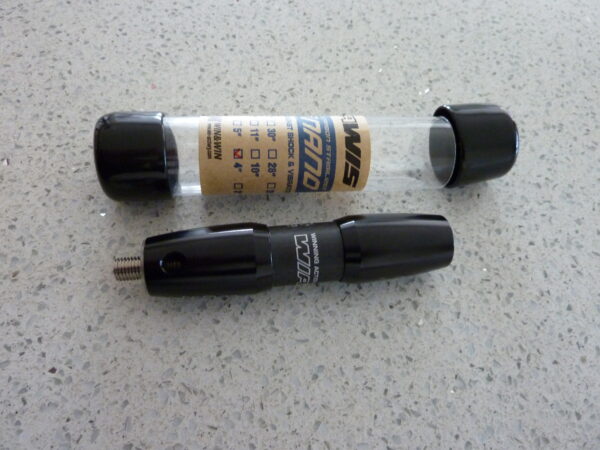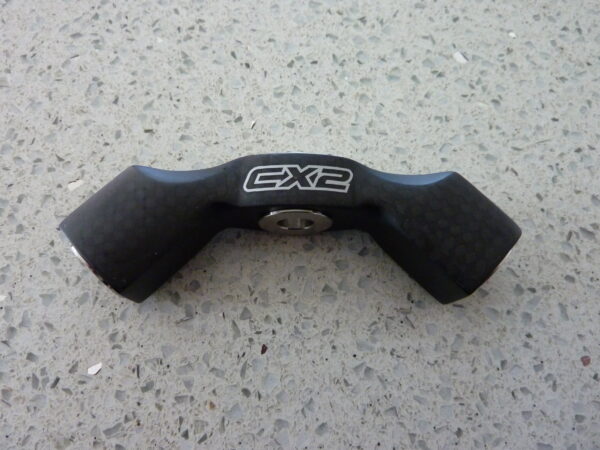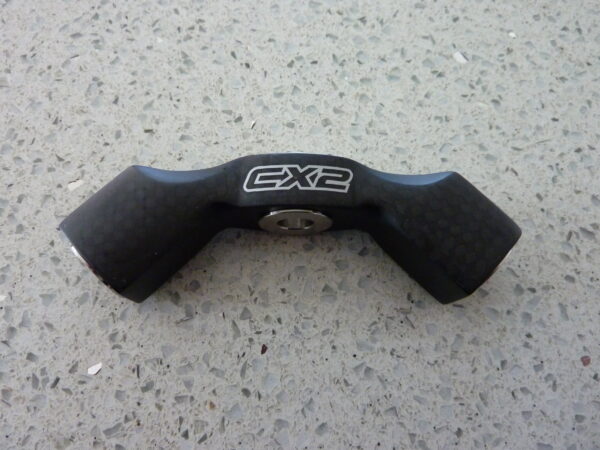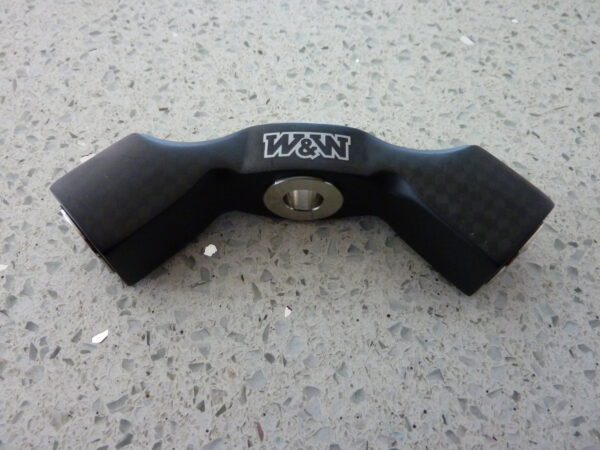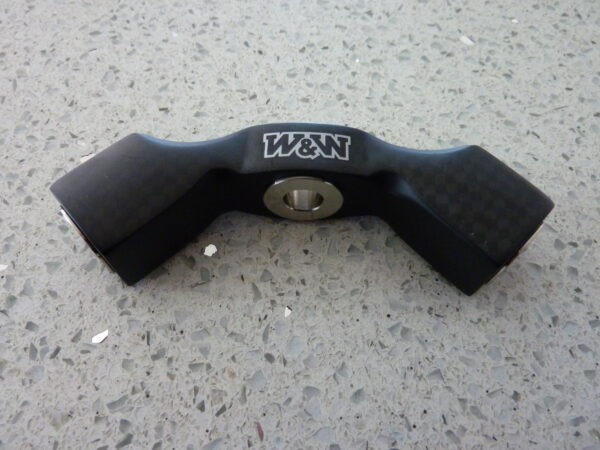 This week a few of us travelled to Grey Goose Archery near King's Lynn in order to try out some new bow types. We had never been to the new Grey Goose Archery centre, which is in a disused quarry several miles outside King's Lynn. Upon arrival the set up looked good, with lots of car parking space, a static caravan with toilet facilities. There were also some nice A frame picnic tables to use and two shooting areas.
We attended their 'Pay and Shoot' night which occurs on a Tuesday and Thursday night at 6.30pm until 8pm or whenever it gets too dark which for us was about 7.20pm in mid September.
Sean had managed to get hold of a left handed compound bow, it's always difficult to get left handed items it seems – no-one ever stocks them. There was also a 16lb longbow and 40lb longbow, a right handed American Flatbow as well as horse bow which felt like 20lb-25lb.
I started off with the compound bow, which I had never shot before. With some brilliant instruction it was easy to get shooting. We used thumb triggers, I think these were the most complicated part of shooting a compound. My bow did not have a peep sight and only a standard hunting type sight. But the arrows did group quite nicely. There were two things that I did wrong – the first was to grip the bow, which I thought you did with a compound, although the grip should be the same as a recurve grip. The other thing was that I started off using my thumb as the trigger and actually pulling the trigger as opposed to having the trigger half way down my thumb and squeezing it. A couple of times it went off when I was not expecting it, but I soon got used to it.
I then moved onto the 16lb longbow which was good fun, although it got a lot more serious when trying the 40lb longbow as that required more of a meaty pull and gave a little kick when fired. Finally we only got one end with the horsebow as the light was fading fast. The horse bow was also great fun and for me like a really big rubber band.
I can see why people really fall in love with horsebows, as they are such good fun and can be purchased for around £100. It was great to finally try out some of these bows, especially the compound, as hardly anyone seems to have a left handed one that they could let me have a go with. Would I buy a compound? Probably yes, maybe for fun in the garden or for target archery. The only downside is cost. I priced up a range of entry level accessories you need to put on a compound (including target sight and scope) and arrived at £450 just for the accessories and arrows not including the actual compound bow. So I think a budget of between £600-£800 is required to set one up.
So all in all a great night out at Grey Goose Archery and it was nice to visit a different archery ground. We have also talked about going back with more people to make it a social event.
Here are some images of Mike and Louise trying out the compound and longbows. No pictures of me, as I took all the photos.