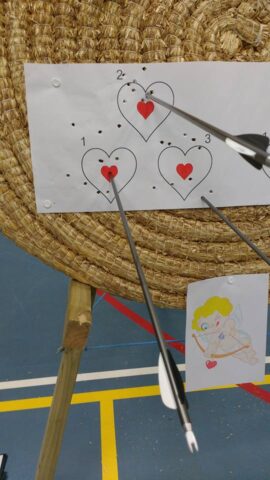 Today I arranged a Valentines Day shoot. Ian printed the targets for us and we had 3 inner hearts and 3 larger outer hearts. The same style as a Vegas round. Recurve archers scored 1 point for the outer heart and 2 points for the inner heart. Compound archers scored 1 point for the inner heart and 0.5 point for the outer heart.
We didn't bother with sighters today, as we didn't know how long the paper targets would last, but they held up quite well.
I ended up coming joint 6th out of 15 archers. I still found myself tweaking my button and sights but it is really useful to tune when shooting tiny targets.
We had 5 chocolate prizes, and gave out prizes to the top 3 archers, then put the remaining scores into a bag and pulled out two winners of the remaining chocolates.