Tag Archives:
archery training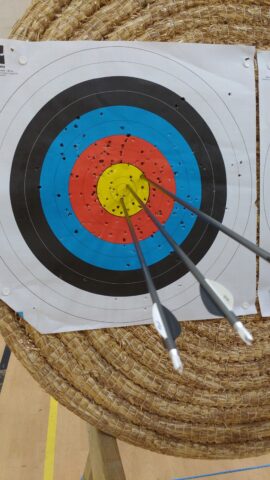 Tonight there seemed a lot less of us shooting, we all shot at Portsmouth targets. Shooting didn't really click with me to start off with with most arrows were going in the 8 or just cutting the 9 line.
It wasn't until about half way through the night that everything clicked and I started hitting the 9's and 10's.
Overall a good night of shooting. Plus also, two people in the club now have Uukha limbs, they have a nice finish to them, and seem to be growing in popularity.
I also ordered a new finger tab this week from eBay, it came on Friday. I bought exactly the same one as before as a backup in case I lose my main one, as the other week a bolt came out of my bow stand, which made it impossible to use, and if you don't have a bow stand you have to prop your bow up against something, it's really inconvenient. So I started thinking of all these spare items I should have like spare strings, spare finger tabs hey maybe even a spare stand?
This evening at training I brought my Hoyt Carbon 720 limbs and new string to set up. I decided to put metal nocks on the string again even though a lot of people seem to use thread or even dental floss for nock points.
I borrowed a pair of nock pliers and added the metal nocks to the string, it took several ends and I mean several to get the nock points correct so the arrows flew straight.
I then adjusted my button spring and then my metal arrow rest and was all sorted or so I thought. Thing is I didn't check my centre shot at all, but I did this during the week in the end.
I shot during the week at home and after changing my centre shot I decided to drop my poundage back to 38lb down from 40lb. I was struggling a bit with 40lb, and if we go outside in 6 weeks and start shooting 6 arrows I will be crippled. So I think I will stay on 38lb for a bit longer.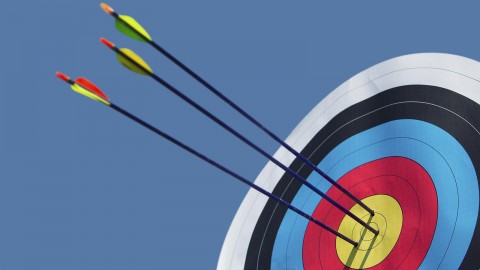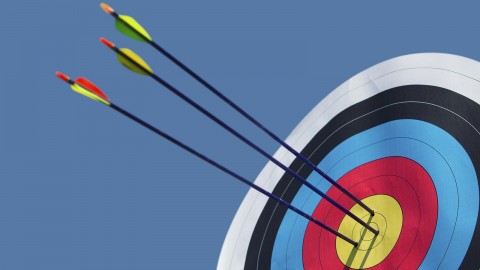 For archery training tonight we shot at Portsmouth targets. I didn't have a great start, it's important for me to remember about the string picture again in order to make a good shot.
I also found that it was important for me to remember to drop my draw shoulder, as I began with my shoulder quite high, but once I focused on it and made it drop to become more horizontal and in-line my shots fell more on target.
I notice that the arrow came off the arrow rest a couple of times tonight. I then noticed that the arrow rest had moved slightly. So I got out my allen key and modified the arrow rest so the arrow sat nicely into the slight dip in the metal arrow rest arm part.
I was contemplating winding my limb bolts in to go from 38lb pull to a 40lb pull on my 34lb recurve limbs. The problem is then my old Easton XX75 Platinum Plus 1916 arrow spine may be incorrect. I have thought about purchasing some Easton Fatboy arrows with a 500 spine, but I might wait now until we go back indoors later in 2016.