Precision Archery by Steve Ruis and Claudia Stevenson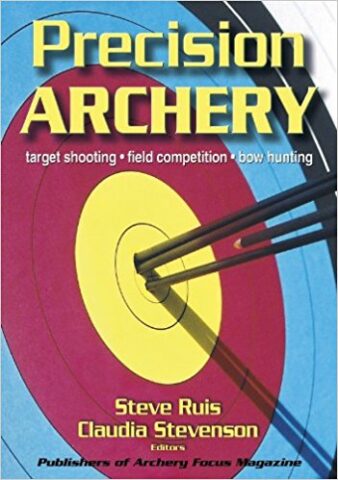 The Precision Archery book has over 180 pages and on those is quite a large font, which is quite nice as it's easy to read. Precision Archery has 14 chapters which cover most aspects of archery in all forms from target to field etc. Within Precision Archery it explores competition, advanced form for recurve archers and compound archers, executing the shot, achieving a physical edge, tuning the mind, tuning of recurve and compound bows, coaching and being coached, dealing with difficulties, perfecting practice, joy of Arco Nudo, testing new equipment and finally embracing the spirit of archery.
If you want to know what Arco Nudo is, it means really Barebow – a nude bow I suppose. There is a great little chapter on field archery as well which seems to be growing in popularity as some may become bored with full time target archery.
The physical side of archery chapter lists a number of exercises, but without images of each exercise it is difficult to imagine some of them. Images of the exercises would have helped here.
I like that this book covers a lot of the key areas of archery and gives some good advice without bombarding you with too much information. Sure if you want more information on a certain topic you can always look for an archery book that specifically covers a certain area in more depth. All images in the book are in black and white, it would have been nice to have seen more colour images. There is a resource section at the back of the book with some good links and further reading.
Precision Archery is a great archery book and one I think you will find yourself reading from cover to cover instead of using it as a reference book. This book is easy to read. It's difficult to say it is only aimed at beginners only, as I think it does have something for beginners and intermediate archers alike.
Buy this book from eBay

Buy this book from Amazon UK