If you are like me when I am shooting outside, I can't stand squinting at the target or having the wind blow in my face too much. So how can I solve this without spending hundreds of pounds on Pilla archery sunglasses. I wouldn't mind trying some Pilla glasses but I don't want to spend the money, plus you are supposed to wear them around 30mins before shooting and not take them off during.
My first idea was to just wear some general cheap sunglasses. Simple enough and cheap, but they block out too much light and make the target appear dark as well.
So I went and purchased some reasonably cheap Bolle Cobra glasses with yellow lenses. These are a wrap-around design with no central obstruction. They slightly enhance the gold, stop glare, are comfortable, don't fall off your face and don't fog. I quite liked them.
A year on from purchasing them I was contacted by a UK glasses retailer called 'nothingbutsafetyglasses'. NothingButSafetyGlasses.com offered to send me a selection of Bolle glasses with different lenses in. I had advised them of what archers are looking for in a pair of glasses.
• Light weight
• Comfortable fit
• Enhance the target face
• Reduce glare
• Anti-fog
• and of course look good!
They ended up sending 5 pairs of glasses, here is the list of what they sent:
• Bolle Bandido II + Smoke Lens £5
• Bolle Contour + Polarized Lens £40
• Bolle Spider + Flash Lens £8
• Bolle Rush + Twilight Lens £5
• Bolle Cobra + Contrast Lens £8
All glasses came with neck cords to fit around your head or neck and to keep your glasses on. Most glasses also came with a soft microfibre pouch.
Some of the models did have a central obstruction, so immediately these were not my favourites. But this test really came down to outdoor archery use, so I was keeping an open mind until I used them on the field.
Bolle Bandido + Smoke Lens
These reminded me of bug eye sunglasses, as the lens part of the frame are very round and shaped. A great design and very comfortable but a bit too brown for archery really. For normal use they would be fine.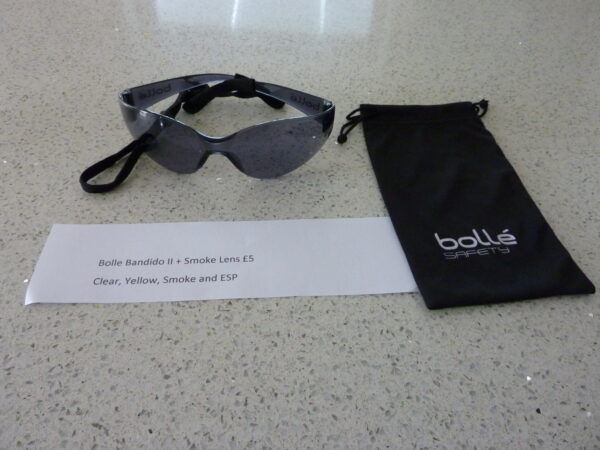 Bolle Contour + Polarised Lens
This type of lens is more expensive, but I really like the frames. These are very lightweight and the lenses are really good. I shot in these outdoors and unlike normal sunglasses these did not darken everything as much. They provided the correct amount of darkening whilst I was still able to clearly shoot, maybe because they remove reflected glare from the target face as well. One of my favourites.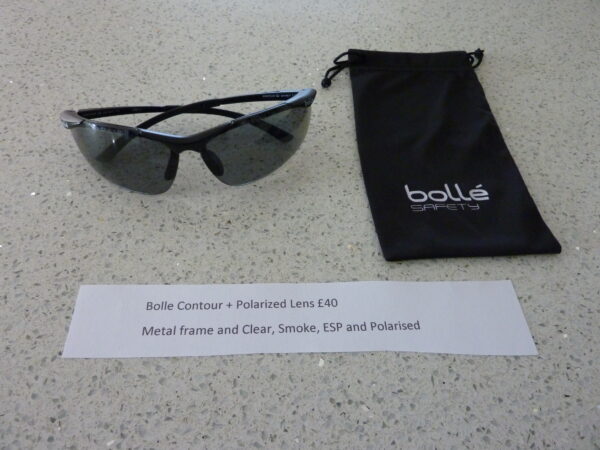 Bolle Spider + Flash Lens
These have the rainbow effect lens (or multicolour lenses) in them, so look quite trendy and beach ready. Although they are great for being outside in direct sunlight I did not like them for archery, but I do really like them as a standard pair of sunglasses.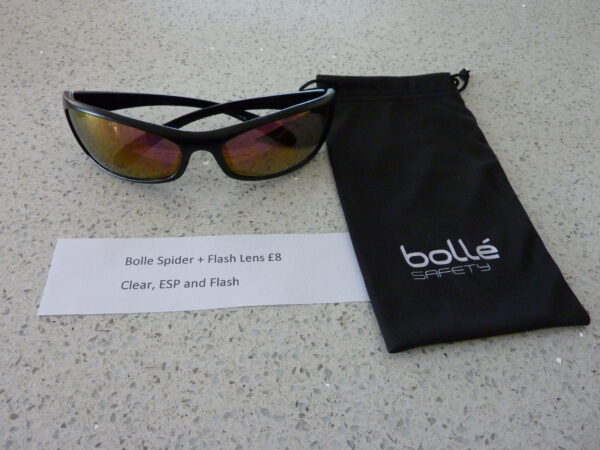 Bolle Rush + Twilight Lens
A really nice frame with the twilight lens, which is good for low light conditions outdoors. We do shoot outdoors until 8pm twice a week so these could be handy at the beginning and end of the season when the sun sets early. But for daytime archery I did not like the lens, although I suppose that is not what they are really for.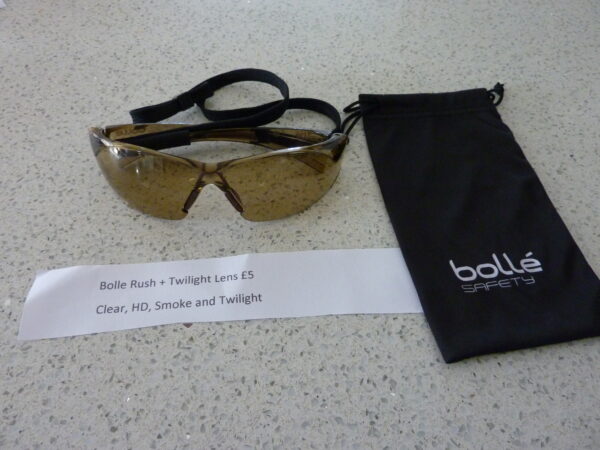 Bolle Cobra + Yellow Lens
This is my pair I originally purchased. These are used a lot as shooting glasses for rifle shooting etc. They also seem to be used a lot for night time driving. These are still my favourite lens together with the great Cobra frames. There is no central obstruction and they fit my face really well. They also really do make the target pop out and add some clarity.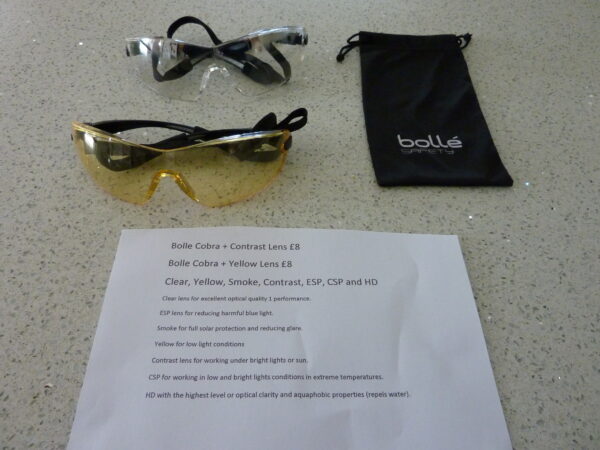 Bolle Cobra + Contrast Lens
The same Cobra frame but with a contrast lens gives these a clear look but with a band of silver along the top edge of the lens. For indoors archery in any light they would be great and for outdoor use when the sun is not shining. They really are clear and make me feel like I have gone from watching SD to HD.
Lens Types
Lets run through the types of lenses that I tried in the glasses sent to me:
Smoke Lens
The smoked lens is much the same as you will find in traditional sunglasses but with the added strength of EN166 certified impact resistance on Bolle safety glasses. These will block out up to 87% of visible light. So Smoke lenses are good for full solar protection and reducing glare.
Polarized Lens
When light reflects off a surface at a low angle it reverberates. As this light enters the eye it disperses causes glare. The polarising filter minimises this reverberated light enabling better vision and reduces the need to squint through glare.
Flash Lens
These can be distinguished by their reflective appearance and as such have been very popular regardless of their special properties. Flash lenses are similar to smoked lens in that they filter out roughly 90% of visible light making them excellent for bright outdoor conditions. However, the special properties of this lens also filter out up to 60% of infrared radiation. Over time the heat carried by IR light can cause damage to the Cornea and since IR light is invisible, your eyes it will not adjust to increased exposure. Flash lenses are therefore an excellent choice for working in direct sunlight or an industrial process giving off high temperatures. Flash lens for full solar protection including additional Infrared protection.
Twilight Lens
Twilight lenses are useful for low light conditions outdoors.
Contrast Lens
The contrast lenses have a gradient of tint from dark at the top to clear at the bottom. These are now preferred by many that used to wear clear lenses as they protect from sun glare and lighting above but allow high clarity when working at eye level or below. Contrast lens are good for working under bright lights or sun.
Yellow Lens
The yellow lens will provide additional contrast and reduces glare, making it appear easier to see in low light circumstances. They are very popular when working on surfaces of a similar colour such as snow or on cloudy overcast days. During low light many surfaces can appear flat and the term 'flat light' ¬is often used to describe this situation. This can often happen in the middle of an overcast day which make the yellow lens highly popular in the UK.
For lens type indoors our favourite was the Cobra + Contrast Lens. They really did make everything seem brighter. May be not the best choice for a really sunny day. But they would be my ideal choice for an overcast dull day or when light was fading at the end of the day, if the nights were drawing in and shooting went on too long – usually those nights as soon as we go outdoors or just before we move indoors.
Other lens types available
ESP Lens
ESP lens is for reducing harmful blue light.
CSP Lens
The CSP lens is for working in low and bright lights conditions and in extreme temperatures.
HD Lens
The HD lens comes with the highest level or optical clarity and aquaphobic properties (repels water).
Overall Thoughts
I loved trying all these Bolle glasses as they are all very lightweight and comfortable. If I was going to choose my favourites they would be the Cobra Contrast and Cobra Yellow glasses and the Contour with the polarised lenses.
The Cobra range has no central obstruction and they wrap around your face. The yellow lens will intensify colours and make that gold centre stand out even on a cloudy day, but will also remove glare on a bright day. The clear contrast Cobra's are also very good as they add a lot of contrast and make everything seem sharper and more defined. A great set of glasses for indoor as well. I also liked the Contour frames as they are light and a nice fit. Together with the polarised lens they cut out a lot more light but not as much as a standard pair of sunglasses, so they still work well for shooting. They just don't intensify the colours on the target face.

A video review has also been produced on YouTube and you can find it here: https://youtu.be/lDTUCsASSa0
Thank you to NothingButSafetyGlasses.com for sending these to review. All glasses can be ordered online from https://www.nothingbutsafetyglasses.com – there are big discounts if multiple quantities of the same glasses are ordered and they have lots of choices of frames and lens types. There is also lots more information on their website about the lens types and they are very helpful.