Well after a couple of years of toying about buying a compound bow, I actually went and did it. I watched a couple of videos on YouTube about the Kinetic Mirage bow and it seemed OK. I didn't want anything second hand as I knew nothing about compound bows. I didn't want anything too expensive, in case I didn't get on with a compound bow. Finally I wanted a bow which was easy to alter the draw weight and draw length. I am also glad I didn't dive in and purchase a bow that was a 50lb or 60lb draw weight. To begin with I struggled with drawing 40lb.
Being a left handed archer it is always difficult to get hold of left handed archery gear. This is whether it's in stock at the retailer or even in stock at the wholesaler – with is usually Holland or Belgium. It turned out that some LH colours were in stock in the UK but not black. I wanted a black one, and SSA in Belgium were totally out of stock. But luckily Merlin had one left sitting on their shelf. Usually with a bow, especially your first I would recommend buying from a shop in person and getting it sized and set up for you. I didn't this time I just ordered online.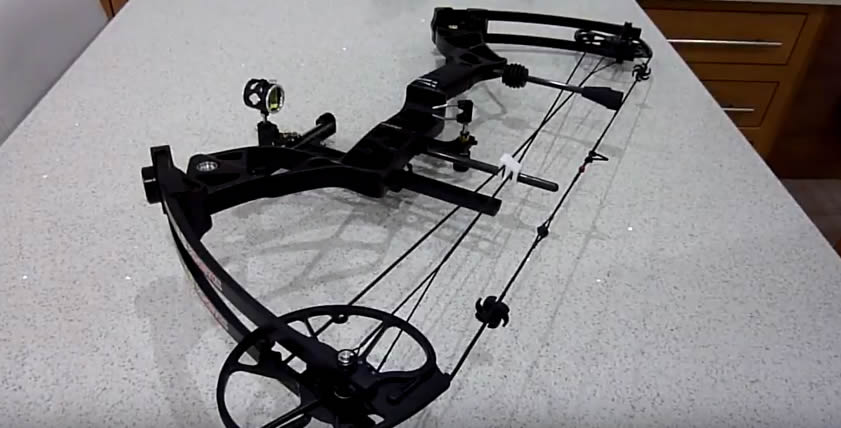 Kinetic Mirage Starter Kit Contents
The Kinetic Mirage arrived quite quickly and you certainly get a lot for your money. This includes:
Compound soft case
Avalon Tyro long rod
wrist trigger release
spare D loop material
string wax
sight and scope 4x magnification
arrow rest
Kinetic Mirage bow set to 55lbs
peep in place (loosely)
D loop fitted
Set of allen keys
Paracord wrist sling
Setting up the Kinetic Mirage
It's worth noting the instruction manual does not tell you a whole lot, except it does contain a table of the draw length settings that match the letters on the cams.
The Kinetic Mirage bow is initially set to the full 55lbs, each full turn of the bolts makes a change of 3.5lbs. You will need to change this first. Remembering not to complete a full turn of the bolts more than 7 times from totally in to totally out or vice versa.
Then I changed the draw length by moving the fiddly screws on each of the cams. I measured my draw length against a wall finger tip to fingertip and divided by 2.5. Then look in the instruction book for your draw length and the corresponding letter, but now minus 1.5 inches from your draw length and you will have your real draw length and use that corresponding letter from the instruction booklet for setting your draw length on the cams.
The arrow rest comes with two white sleeves on the prongs you can remove these by sliding them off.
One of the other things I immediately did was to wrap some tennis grip wrap around the handle. The handle is very thin and the metal felt very cold.
When it arrived I did notice some cam lean. I considered this to be a fault but retailers don't as the bow is still OK to shoot. Merlin offered to look at it, but I did not fancy a 4 hour round trip to to see them. Instead I took it to The Archery Company in Sandy. They helped me a lot to set it up and added a Teflon cable guide and fitted a new D loop. They also helped me tune it a little with a walk back test and removed the cam lean and made sure both cams were in time.
Overall
It's still early days for me and the bow, but I do enjoy firing it. I have begun scoring some target rounds as well. I can see how you could easily start to upgrade the parts of the Kinetic Mirage bow that can be removed and kept and put them onto your next compound bow.
These would be the arrow rest, sight and scope, smaller peep sight and upgraded release – perhaps a back tension or thumb trigger release.
For more on this I did create a YouTube video – find it here – https://youtu.be/ztGG7aAjNEs – and don't forget to subscribe to my ArcheryBlog YouTube Channel.