I've had my Decut Twant sight for a while now. I ordered the larger diameter sight pin the 1mm. They also come in 0.5 and 0.75mm sizes. Mine came with 2 spare fibre optic pins with another one installed. My pins were the red ones, although now I see in a lot of images online they seem to come with a green fibre optic sight pin.
As mine didn't come with a green one I decided I wanted to try a green one out. I just think that the red/orange sight pin colour is too close a colour to the yellow and red on the target face. It seems logical to pick a sight pin colour that's not on the target face.
So as my Decut Tawant was 1mm, I noticed that the Shibuya replacement fibre optic was also 1mm and very cheap at about £2 or £3 a length. So I purchased some and slipped it into my sight. It wasn't a perfect fit, but one end is thicker than the other.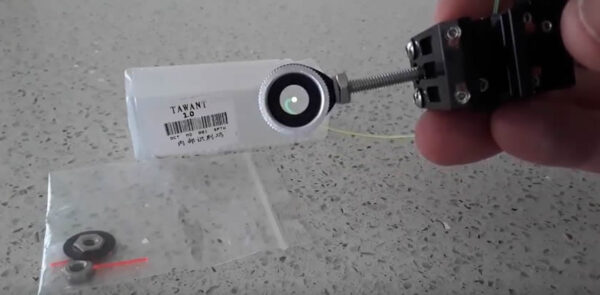 Originally I was going to cut the length at about 1 inch and just have that in the sight, but once I put the whole length in I noticed just how bright it really was. Cutting it to about 1 inch was going to make the optic a lot dimmer. So I decided to leave it as it was at full length and just push the other end into some hole on the sight block. As long as it doesn't come out when shooting I should be fine.
I have shot with a few times now indoors and I really like it. It's great if the sports hall is not well lit or like me my eyesight does not seem to be as good as it used to be.
** I have seen in the Archery GB Rules of Shooting that all sight pins or fibre optics are not allowed to extend outwards from the scope more than 2cm before they bend. So be careful of this, I will have to measure mine. I won't cut it down, but will just make sure it bends more if it needs to.
I have made a video on this, and it's on my YouTube channel – https://youtu.be/Q7KZTYrMT6U