What is the best laser range finder on the market? When starting out in field archery I wanted a way to train my eye to learn to judge distance and I thought a really good way was to know the distances. A great way to measure distance is with a laser range finder, the type a lot of golfers also use.
Many of the laser range finders are overkill for us archers as they claim to measure up to 600 yards, when we only really want them to be accurate up to 100 yards.
There are a lot of laser range finders on the market today from various brands all at various prices, so which one is the best laser range finder? This article looks at 3 laser range finders that I considered, and I bought one of them.
Nikon Coolshot 20
I started looking at the Nikon Coolshot 20. Nikon have a range of laser range finders, but the Coolshot 20 was the entry level version. This retails at around £150 in the UK. Why this one? I trusted the brand. Nikon is well known for binoculars, cameras and camera lenses. Plus most come with a 2 year guarantee. The Nikon Coolshot 20 has also received good reviews. But it is a point and shoot distance range finder it cannot deal with slopes and take those into consideration.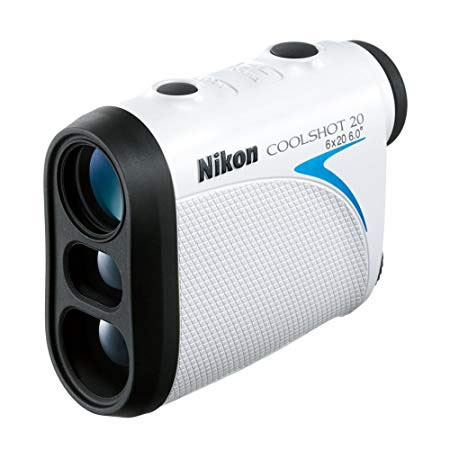 Measurement range: 5-500m/6-550 yards.
Compact, lightweight (approx. 125g) and ergonomic design.
First Target Priority for measuring the distance to the closest subject.
8-second continuous measurement allowing for slight hand movement.
Distance measurement display step is 1m/yd.
High-quality 6x monocular with multilayer coating for bright, clear images.
Long eye relief design affords eyeglass wearers easy viewing.
Dioptre adjustment function.
Rainproof — JIS/IEC protection class 4 (IPX4) equivalent (under our testing conditions).
Wide temperature tolerance: -10°C to +50°C.
Where can I buy the Nikon Coolshot 20 Laser Range Finder?
You can find the Nikon Coolshot 20 on Amazon UK – https://amzn.to/2XPFyEv and in the US – https://amzn.to/2ZE03p9
Suaoki Range Finder 5-600P
Next up I then started looking on Amazon at the Suaoki range of laser range finders. This was mainly due to the price this entry level version was only about £70, that's half the price of the Nikon. Sometimes the unbranded or lesser well known brands can be just as good as the more expensive branded versions. Sometimes these versions are even made in the same factory.
This version can also perform speed measurements, and measure height. It also have the same 6x magnification as the Nikon, is still waterproof and also has some really good reviews.
So I thought why not try this, it's cheap. If it does not do what I want, I can always return it to Amazon.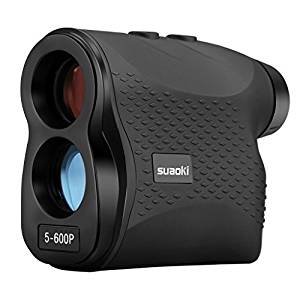 Model No.: 5-600P
Laser type: 905 nm
Measuring range of distance: 5-600 m
Measuring range of speed: 0-300 km/h
Magnification: 6X
Eye piece size: 16 mm
Exit pupil diameter: 3.8 mm
Precision of distance measurement: Average ±1 m
Precision of speed measurement: ±5 km/h
Net weight: 172 g / 0.4 lb
Dimensions: 105x82x43 mm
Operating temperatures: -10℃-40℃
Battery: AAA battery, 1.5V, Alkaline (Zn-MnO2), 0.75Wh
Where can I buy the Suaoki 5-600P Laser Range Finder?
You can find the Suaoki 5-600P on Amazon UK – https://amzn.to/2XJ1wcb or on in the US – https://amzn.to/2XKSzz2
Suaoki Professional Range Finder PF3S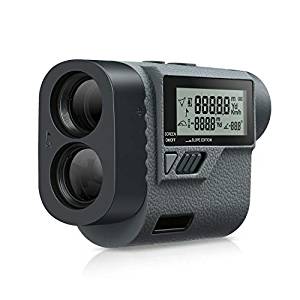 Then I noticed this Suaoki Professional version. There are other Suaoki range finders in the range. But this one was not much more money that the entry level version above. It was about £20 more at around £90. Besides this one having a screen on the side of the range finder, the biggest difference between the Suaoki Professional and the Suaoki entry level and the Nikon Coolshot 20 was that this model could measure distance to one decimal place. E.g. 23.4 yards as opposed to just 23 yards.
For me that was a major advantage. The extra information might not be important if you are a golfer and are shooting at distances of around 200 yards. But for an archer being 1 yard / 1 metre out can mean the difference between a hit and a miss.
So that was the main reason I purchased the Suaoki Professional laser range finder. It can still measure up to 600m or 656 yards and is waterproof and has a 6x magnification. Plus it also has an LCD display on the side which you can turn on and off. It also has a flagpole lock facility, can measure speed and the height of objects.
The Suaoki Professional can also perform angle measurement so for golf that will tell you that a sloped shot of 150 will play like a 170 yard shot. The Nikon Coolshot 20 and the Suaoki entry level version cannot do this.
Don't also forget the Suaoki Professional Laser Range Finder also a adjustable eyepiece (+5 diopter) so you can wear glasses and still use it.
It is also really easy to change between measuring yards and metres.
I have taken it out on the 3D field course a few times, and when measuring 3D targets in the distance it has been really accurate and easy to use. Even when shooting known distances it is useful to double check those distances with your own laser range finder. Thoroughly recommended.
What comes in the box?
It comes with a battery (this takes a single CR2 battery, whereas the entry level version above takes 2x AAA batteries), zip case with belt loop, manual and hand strap.
Specifications
Model: PF3S
Range: 5-600m (656 yards)
Ranging error: ±0.5m (0.55 yards)
Measuring angle range: -90°~90°
Ballistic compensation angle range: -20°~20°
Angle measurement error: ±1°
Laser wavelength: 905 nm
Telescope magnification: 6X
Telescope objective lens aperture: 22mm
Telescope eyepiece aperture: 16mm
Outlet diameter: 3.7mm
Diopter adjustment range: ±5D
Working temperature: 0° C ~+40° C
Speed range: 18~300km/h
Size: 118*79*42mm
Weight (without battery): 213g
Where can I buy the Suaoki Professional PF3S?
You can find the Suaoki Professional PF3S on Amazon UK – https://amzn.to/2DDGS5I
Suaoki Professional PF3S Video on YouTube
I have made a video about the Suaoki Professional PF3S laser range finder. In the video you can get a good look at it, and get to see what I see through the laser range finder eyepiece. Find the video on YouTube – https://www.youtube.com/watch?v=nTf6N-TLBt0