After seeing the Fairweather tab being heavily publicised everywhere I decided to go for it and buy one. Now I know I haven't had my Decut Barbi Barebow tab for long, but I just need to try this Fairweather tab.
When you order you need to order the tab and the finger ring separately, as the finger rings come in several different sizes. To measure your finger, you need to first get a thin strip of paper and wrap it around your tab finger over your knuckle. Mine came out at 22 so that's the one I ordered. The table you need to use is shown below.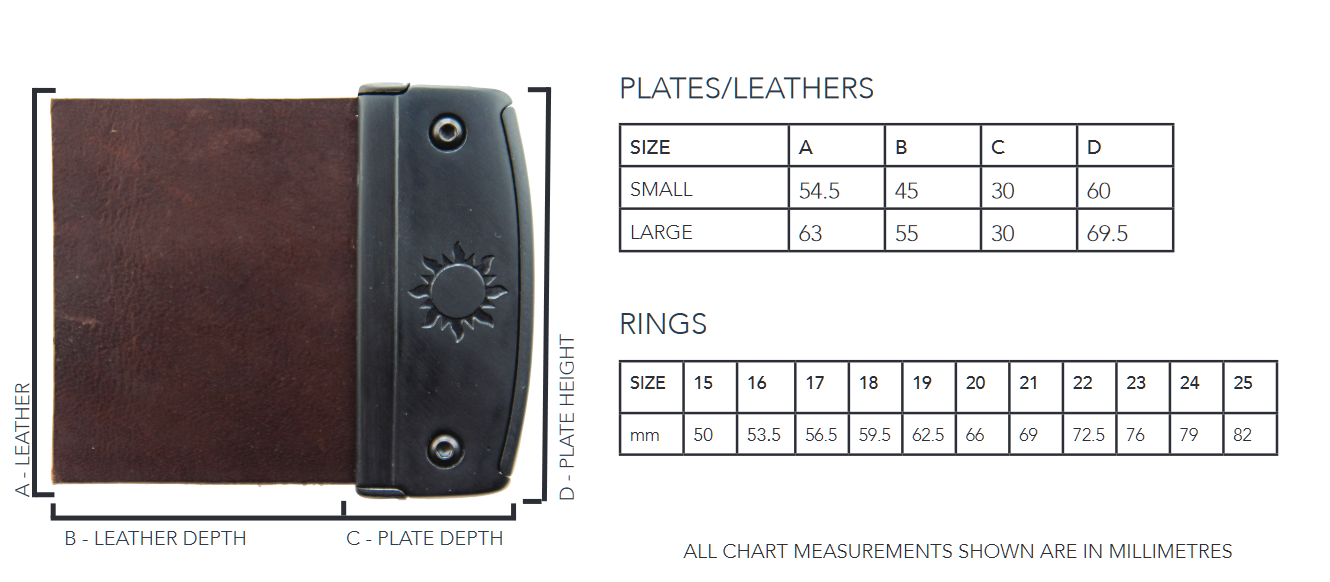 You get two rings in the packet a squishier one and a more rigid one, so the choice is yours to which you use.
For my barebow tab I decided to go for the Barebow Pro tab set. This comes in a nice zip case, with a mini-Sharpie inside, three pieces of leather and a suede piece. There are also several lengths of sticky marking tape, some is already marked out whilst some are blank to make your own. Finally, there is a small Allen key type screwdriver so you can take apart the screws on the tab and alter it. You'll need to anyway, as you'll have to take it apart to put the ring in. There's also a small spare screw.
When I opened the box, the tab comes ready with all three pieces of leather in place. So, it's up to you if you only want two pieces or even one with or without the suede piece added.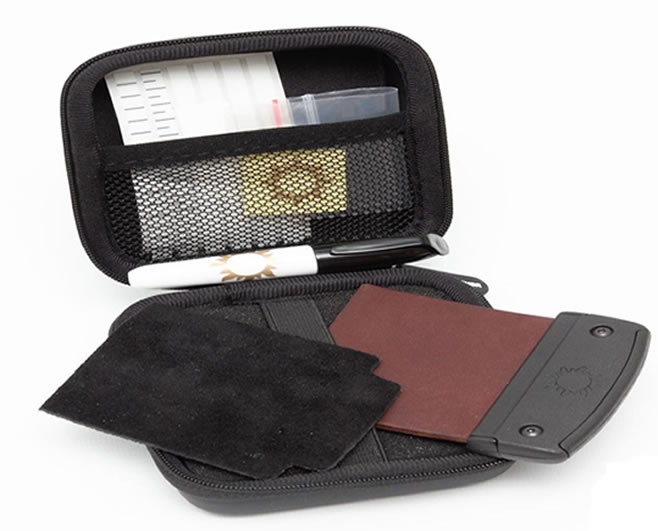 I forgot to mention that in the Pro Tab version you can either choose a small or large tab version. I went for the large version, and I've got to say there is a lot of leather on the tabs that need removing, certainly for my fingers. I tried shooting with the tab straight out of the box, but the leather was far too long. I'm yet to cut it, but I will need to. But then again, I usually cut most of my leather tabs down.
My initial thoughts are how good the presentation of the Fairweather tab is, in the zip box with all the accessories. But it's a very traditional tab, what I mean is there's not much to it, if you are used to pinkie hooks or shelves on the top of your tabs. Plus, the main body is plastic, whereas most of my tabs have a metal body by default. Although you can purchase a Fairweather metal plate if you prefer a weightier tab, but at extra cost.
I'm going to stick with it and cut down the leather and see how I get on; I'll keep you all informed. Who knows I might end up preferring my Decut Barbi Barebow tab instead. But that's the problem when you need to purchase something in order to try it out, especially when the size is so specific to the archer.
If you want to have a look at me reviewing the Fairweather tab head on over to my archery YouTube channel and watch my Fairweather Pro tab video review.