Here is a list of the more local to me archery competitions coming up this year and possibly next year. These are going to cover the Eastern side of England. More competitions More »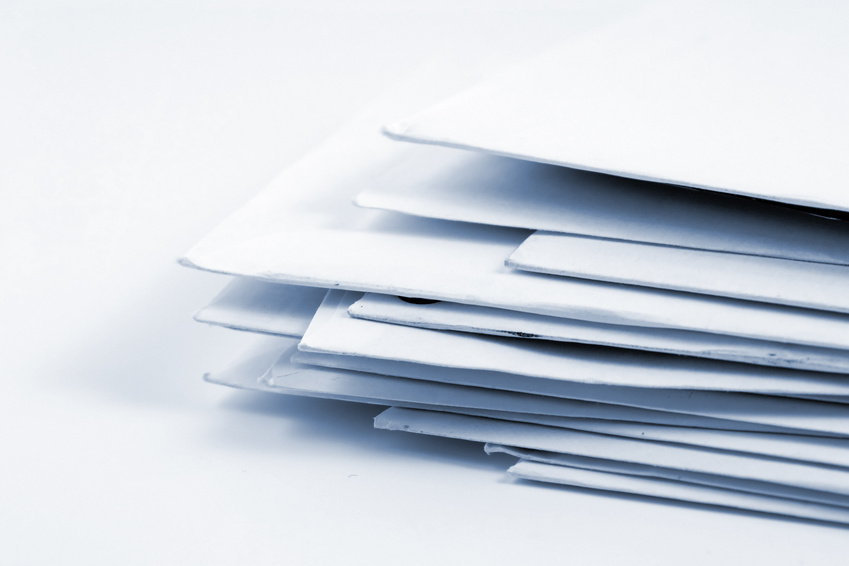 Here are a selection of the Archery GB classification charts. These are split into indoor and outdoor as well for different bow types including compound and recurve as well as gents and More »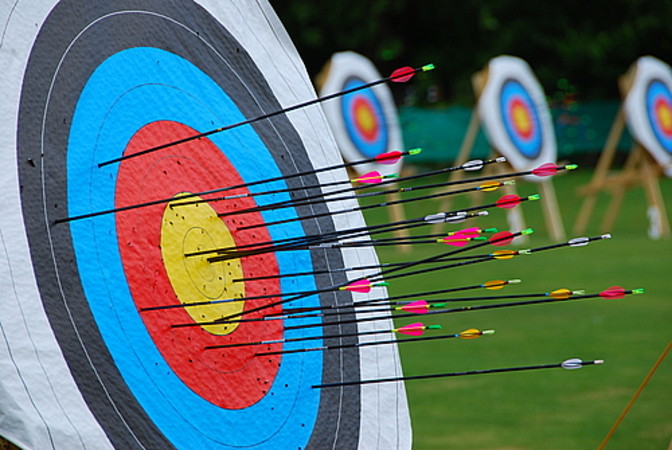 I wanted to create a number of archery videos to demonstrate various archery topics from archery basics, tips and tricks, book reviews and archery equipment reviews etc. Sometimes a video is easier More »
It was my first time attending the Green Dragon Bowmen shoot at Knebworth House. This annual event see's us shooting a Windsor round (60yds, 50yds, 40yds) with other junior rounds available. Green Dragon Bowmen shoot on straw bosses and they fix the bosses in place and just move the shooting line (well this was already laid out, we just moved forward at every new distance).
The backdrop behind you on the shooting line is the impressive Knebworth House. Beside that is the cafe and then the toilets which only opened at 11am – the shoot started at 10.30 but we stopped for a toilet break after the first scoring end once the toilets had opened. After the 60 yard distance it was lunch until 1pm when we started the 50 yard distance and then there was another break in the afternoon before we shot the 40 yard distance.
It was a very well organised shoot and parking was very close-by. I'm also glad that you could enter the competition via email and use PayPal for payment, I can't stand cheques and paying for stamps to post entry forms off.
The only downside to the whole day for me was shooting into straw targets, but there were over 20 targets on the field, so purchasing this many Danage targets would have been very expensive although layered foam targets are not much more costly than straw.
It is also worth noting that the field is very open and in May 2017 it was very windy that day. At the 60 yard distance I found myself aiming in the white on left hand side of the target to get the arrow to land in the centre of the target. As we moved closer to the targets and the wind slowed a little I then changed to aiming at the blue and then the red to centre my shots.
I finished the shoot with a score of 777 with only one miss. This was a PB for me, as I had never shot a Windsor before but it also turned out to be a club record as well beating the previous record by something like 12 points.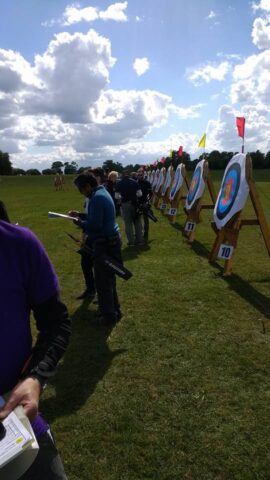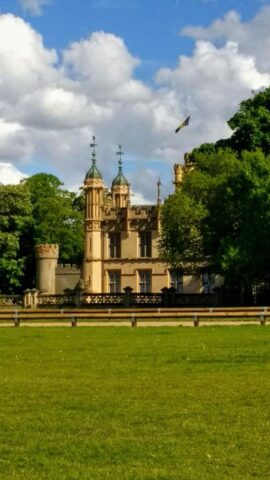 I had been using my Hoyt 720 Carbon limbs for about 9 months when I found a great price on some Hoyt Carbon ACE limbs. I loved my Hoyt 720 limbs and if I had not found these Carbon ACE limbs I would never have upgraded.
Back in 2016 the Hoyt 720 limbs were the kind of the entry level carbon recurve limbs, (there is also the Excel limb which is cheaper) then came the Hoyt Carbon ACE limbs and then the Hoyt Quattro limbs. In 2017 the 720 limbs stopped being produced and were replaced by the Hoyt 840 limb. The Carbon ACE limbs were still being produced but the Hoyt Quattro limbs where replaced by the Carbon X Tour limbs which are available with a foam core or bamboo core.
Hoyt ACE limbs vs Hoyt 720 limbs
The Hoyt Carbon ACE limbs at RRP are nearly double the price, but what is the difference? Well the 720 Carbon limbs have a wood core whilst the Carbon ACE limbs have a foam core. Some people prefer a wood core, as on the Hoyt Quattro you could actually choose between the two. I think some people are worried the foam core limbs will weaken and snap.
When un-boxing the Hoyt Carbon ACE limbs you still get the nice Hoyt limb covers, a sticker, user manual and this time I also got a Hoyt keychain lanyard. I bought the medium 38lb limbs.
When shooting the Carbon ACE limbs I was expecting them to be faster and so alter my sight marks, but my sight marks barely moved at all. Also the 'feel' of the 720 and the Carbon ACE limbs was not really that noticeable at all.
Overall thoughts
But I certainly won't be changing these Hoyt Carbon ACE limbs anytime soon, unless something goes wrong with them or I need lower powered limbs as I get older.
So overall I recommend trying out both sets of limbs to see if you can tell the difference. Although now you'll probably have to compare the Hoyt 840 limbs to the Carbon ACE limbs as the 720 limbs will soon be difficult to find new.
It would be fun to compare the Hoyt 720 vs Hoyt 840 limbs though, as the 840 limbs are more expensive than the 720 – and has anything really changed other than the graphics?
Easton XX75 2016 G Nock Small Uni Bushings or how to get G nock smalls to fit in 2016 XX75 arrows.
I started archery with a set of 1916 Easton XX75 Platinum Plus arrows that were fitted with Easton G nock smalls. I used these arrows for ages before deciding on some Easton ACC arrows for outside which also took the Easton G nock smalls. When it came to replace my 1916 XX75 arrows I moved to a 2016 XX75 arrow. What I noticed straight away was that my favourite Easton G nock smalls were nowhere to be found instead I had now got some Easton Super nocks because the diameter of the 2016 arrows is too big to take the G nock smalls.
I shot with the super nocks for quite a while before deciding that my string was too loose in the nock and I wanted to change the nock.
So how do you fit a G nock small to an XX75 2016 arrow?
Well you buy some Easton Lightspeed uni-bushings which will fit directly into the super nock bushings.
Just remove your Easton super nocks, hot glue in the Easton Lightspeed uni-bushings (when cool) then insert your Easton G nock smalls – sorted.
Alternatively you could keep the Easton super nocks on your 2016 arrows and just increase the strand size of your string or add extra serving to your string, for me it was cheaper to add in the Lightspeed uni-bushings plus all my nocks are now the same size on all my arrows. This also means I only have to buy and carry one size of nock.
Easton Super Nock on 2016 (top) vs Easton G Nock Small on 1916 (bottom)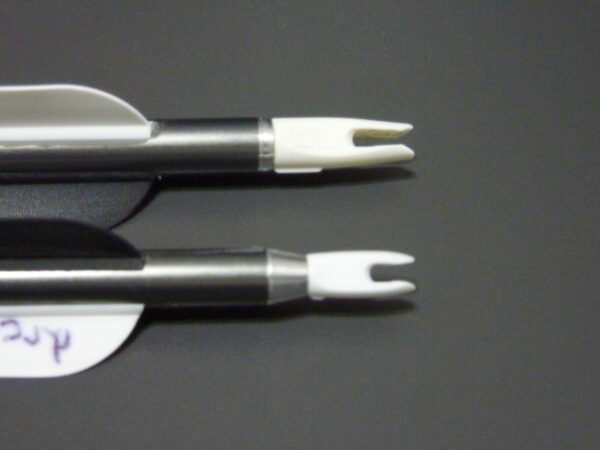 Remove the Easton Super Nock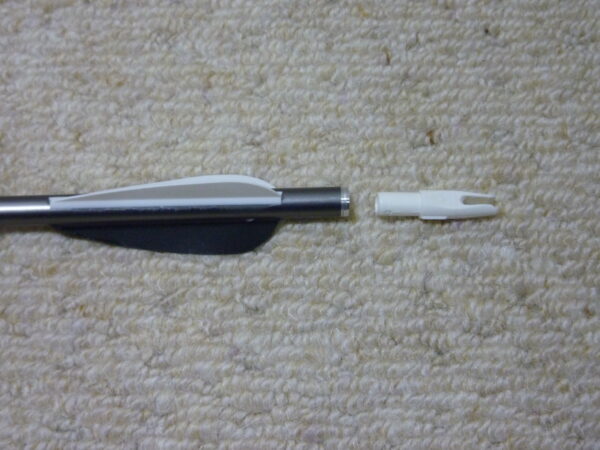 Add the Lightspeed Uni Bushing (hot glue)
Now when cool attach the Easton G Nock small nocks.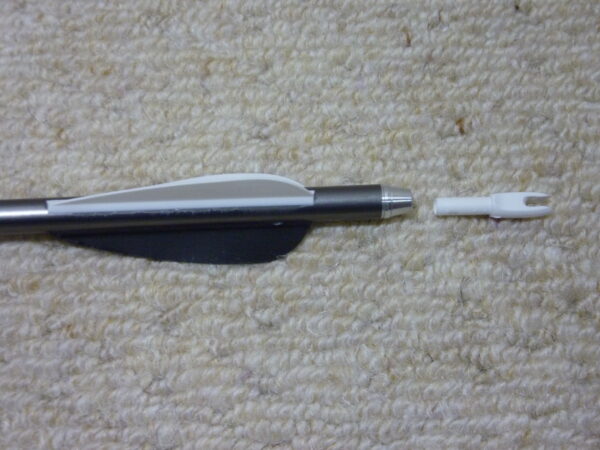 I bought my ACE arrows 2nd hand and it took me ages to work out they had screw-in points. It only realised it when one of the arrows rattled and I found out it was because the screw-in point had come loose. It worried me at first as all my other arrows had nibb and bullett points.
But why was I worried? I now think screw-in points are a lot nicer than fixed points. The main reason of course is that you can easily change points. This can be really useful when playing about with point weights. I just unscrew the current ones and screw in the new ones. If I had the larger break-off points I can't test points weights as once I have broken off the weights I can't put them back on again!
The only downside to having screw-in points is that they can come loose quite a lot – you'll know when your arrows rattle!
Some people advise using some hot melt and then screwing in the point and then heating up the point again to unscrew them. This is fine if you are set on your point weight and don't plan on taking them out whilst on the shooting range. If you want a more intermediate solution then just put some string wax on the threads of the point and screw them in. The points should now stay put a lot longer.
The images below show the ACE insert (59 grains) and 2 points weights for my ACE arrows. The shorter point weight is 31 grains and longer one is 41 grains.
I started off with the 59+31 = 90 grains but have since decided to go for the heavier 41 grain points which makes 100 grains in total.
When trying both out I expected the sight marks to differ greatly increasing the point weights by 10 grains, but I did not really see any change at all. The heavier points seemed to find their way to the target easier and seemed to go exactly where you aimed them when shooting 60 yards with a moderate breeze.
Do note though that the heavier points are longer so you will need to make sure you move your clicker forward.
Easton ACE insert and 31 and 41 grain points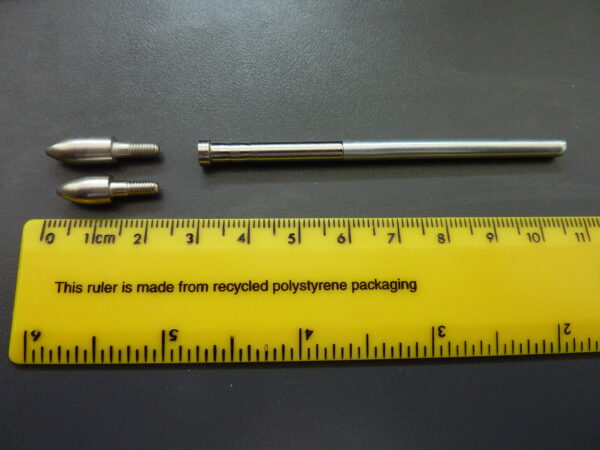 Easton ACE insert and 31 grain points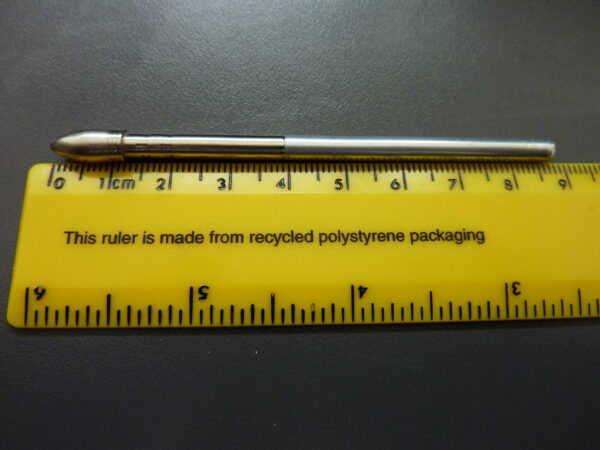 Easton ACE insert and 41 grain points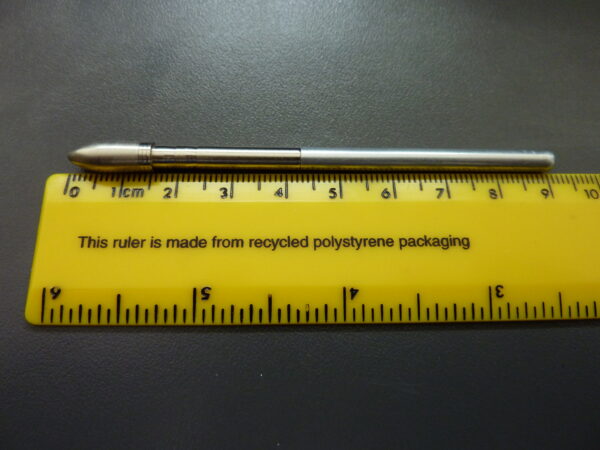 I now have my hands on some second hand Easton ACE 520 arrows and I have decided to put wraps on these and add Easton pin nocks and small pin nocks as well as XS Wings.
This is the first time I have really built the arrows myself, usually I buy them ready made with standard straight vanes on them.
I have used Arrowsocks before for their mini wraps which I put on my arrows to show my name and the arrow number. As the service is so good I decided to use them again for the 120mm wraps, extra coloured adhesive tape and some silver XS Wings.
Arrowsocks Customer Service
As I am left handed I needed left hand XS Wings, silver was out of stock for a while but I only had to wait 2 weeks for new stock. In the XS Wings packet you get lots of adhesive strip, black adhesive tape and 50 wings. Anyway going back to the wraps I ordered the hexagon design in glitter silver (this is one colour throughout and does not fade between colours like the other ones). They were sent out the same day as I ordered them. There were a couple of printing errors on two of the wraps, but Arrowsocks sent me a whole new set a few days later – brilliant customer service.
Adding the arrow wraps
I removed the old vanes from the ACE arrows with a razor blade and then cleaned them with pure alcohol. I then used a green art and craft cutting board with a grid on it to help me align the wraps onto my arrows. This was all straight forward.
Adding the Easton nock pins
I then added my Easton nock pins with hot melt and then when cooled I pushed on my 'crystal' coloured nock pins, I got these from Aim4Sport.
The arrows were then sent to Aim4Sport for cutting and are now ready for the wings to be added.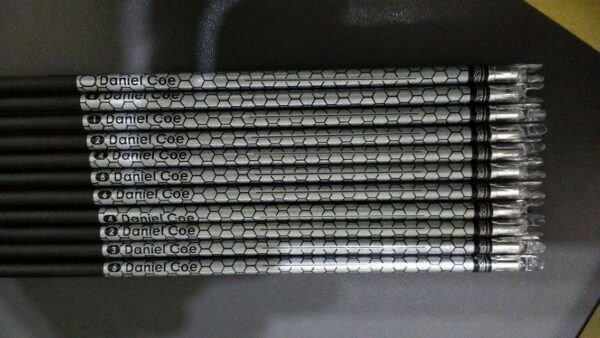 Never before have I purchased second hand arrows. The main reason being worried that the arrows could be bent and well used. I have a different set of arrows for indoors and outdoors and so far I have 4 sets of arrows lying around of which I use two sets. So yes my collection of unused arrows is slowly growing – I suppose I'll be the one selling them soon.
I found out that my current 620 ACC arrows are now the wrong spine for me. They would be fine at my poundage of around 42-44lb if I had a standard draw length of 28″, but I don't I am around 29.25″. This means I need a stiffer arrow and it now turns out I need some 500 spine arrows.
I didn't want to go and buy 8 new ACC ones for around £110 (early 2017 prices) instead I decided to look on the 2nd hand market. Now with this sort of budget second hand I have the choice of X10 and ACE arrows. The problem with buying X10 and ACE arrows is that if you end up breaking or losing some and you need to replace them most archery retailers only sell them in dozens. Although I have seen bare shaft ACEs sold in 4's. That's not such a problem if you buy say 10 or 12 ACE or X10 used arrows but then the price is also going to be higher.
Buying online also presents a problem. It's not just spine and the condition of the arrows you need to look at, but the arrow length as well. So the chance of finding a well looked after set of arrows, that are your spine and the correct length or longer can be tricky.
One thing to check is how your seller has measured the arrow as some people measure the correct way – throat of the nock to the end of the shaft, whilst others may measure the whole length of the arrow including the points – so be warned.
If the arrows are complete it's also important to find out what points have been installed and which nocks and vanes. Although of course you may change these anyway. Knowing which vanes are attached are important for me being left handed as if they are spin wings or eli-vanes you have to install special left or right handed vanes. Another thing you want to check is that the owner has not used super glue to attach any vanes as that can be hard to remove.
When your arrows arrive check they have survived delivery and are all in good condition and not bent in any way by either using an arrow spinner or by just rolling them on a known flat surface.
The next thing is to adjust your arrow rest, button/plunger and centre shot and get them tuned to your bow.
By the way in the end I did find 11x Easton ACC 500 spine finished arrows on eBay.
Check out lots of new and used arrows on eBay.
As a club we decided to put on our first Frostbite (since I have been at the club anyway). I decided that the 1st Saturday in January every year is a good date – easy to remember and just after Christmas so everyone should be around for it. Well it wasn't frosty, a bit misty though but the turnout was good with people we haven't seen shoot for ages suddenly appeared.
In the end 13 of us shot, I only expected about 7 people. It was about 7-9 degrees so not exactly cold. Shooting 6 arrows again did feel difficult, we must be fitter than we think in the Summer. A lot of people didn't know their sight marks for 30m either which made for some interesting shots in the first few ends.
We stopped after 3 ends and sighters for hot drinks and then continued on. Everybody enjoyed it and I finished with 291 on my recurve, shame I didn't break 300 – I will next time! We may even do a frostbite round every month over Winter instead of keeping it to what we thought would be an annual thing.
I have ordered the Frostbite badges from Reading Archers for the people who scored over 200, as the badges only start at 200.

This weekend I managed to injure my knee by twisting it coming off a ladder at home. Very painful and difficult to walk although it did not stop me shooting a Portsmouth round on Sunday at the club and hobbling around.
It turned out that on the first nominated Portsmouth round of the year I managed to equal my Personal Best of 543 again! Even though I felt the score was higher when I shot it. I don't like adding up as I go, as I think doing it may put me off.
Got home and entered everyone's scores into Golden Records and it turns out that it saw the score as a Personal Best even though the score was the same as a previous one but because I scored 1 more gold this time – 24 instead of the previous 23.
What does it take to get over 550 and not just over 550 for a Portsmouth badge but 554 for a C classification!
At last it's time to go indoors again for the 2016-2017 indoor season. It was getting dark too quickly outside, we barely had time to set up and shoot for an hour before it was dark during the week at the club. The weather also seems to have turned in the UK with darker days, even more wind and rain.
So we had our first Friday night indoors and all went well with a little bit of tuning. The hardest thing was remembering where the shooting line and target line were.
On Sunday we had our first Portsmouth nominated round. We had a few problems setting up as the back stop netting props had disappeared we think the builders who overhauled the sports storage room used the wood in the walls whilst doing the re-fit. So new ones need to made up.
I scored 534 in the Portsmouth, a personal best for me, my previous best was 526. I shot 22 tens out of 60, although I did have some 7's and the odd one lower than that. But it must be possible to hit 60 nine's and so score 540 plus the odd 10 thrown in for good measure – so score around 550+. But it's all really about being consistent when shooting 3 arrows.
Shooting a Second Detail
This indoor season we have also decided to do second details in order to slow down the shooting, otherwise it felt like a marching band shooting 3 arrows, collecting, returning and shooting again.
The good thing about having a second details is that it gives everyone a competition feel, it also puts 4 people on a boss so makes the shooting more social. It also as I said slows the shooting down. It seems to be working OK after 1 week.
I have only ever taken part in indoor archery competitions until last Sunday when I took part in my first outdoor competition. Louise and I went to the Jolly Archers shoot at King's Ripton, Huntingdon. I decided to play it safe and shoot the Bristol II which is 72 arrows at 60 yards, 48 arrows at 50 yards and 24 arrows at 40 yards, so 144 arrows in total + sighters.
I could have shot the Hereford round which starts at 80 yards – maybe next year.  Louise bought their line tent, and I amazed how everybody had the same tent, even down to the colour! Everyone had green, although apparently you can get them in grey. I think if you don't have a tent you'd look out of place.
It was certainly different to be shooting 3 arrows, swapping details then shooting another 3 – it was like being indoors again.
The 60 yards was bit dodgy, but my sight marks for 50 yards were way off so my 1st end at every new distance was quite a low score. But in the end I had 1020 out of 1296. A 2nd class score, and probably the maximum you can get anyway. That's a 7 score average. My 60 yard distance average was 6.5, 50 yard was 7 and 40 yards average was 8 per arrow.
We both came away with 1st place medals, but it seemed like so many people got medals, hardly anyone was missed out. I think the problem is with having all the different age ranges, genders, distances and bow types. There just too many variations – then there are the team awards.
An enjoyable, but a long day (the toilets are about 200 yards from the shooting line, plus the breaks weren't that long).
Here we are in the car at the end with our medals: