Here is a list of the more local to me archery competitions coming up this year and possibly next year. These are going to cover the Eastern side of England. More competitions More »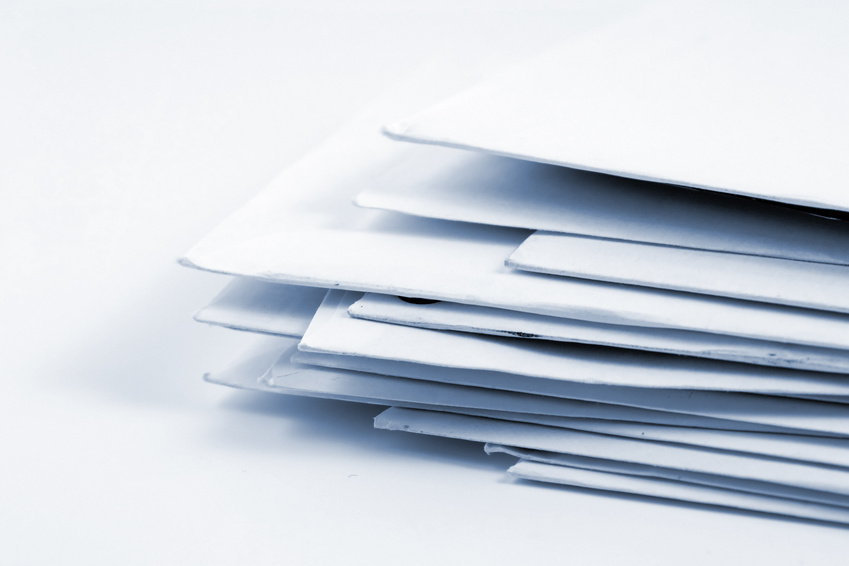 Here are a selection of the Archery GB classification charts. These are split into indoor and outdoor as well for different bow types including compound and recurve as well as gents and More »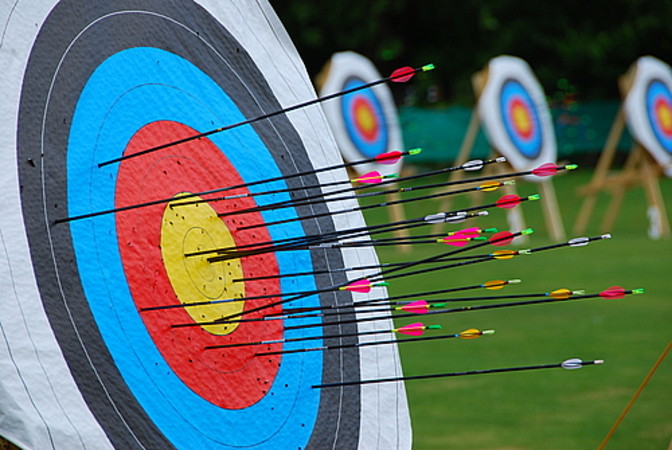 I wanted to create a number of archery videos to demonstrate various archery topics from archery basics, tips and tricks, book reviews and archery equipment reviews etc. Sometimes a video is easier More »
I've had my Decut Twant sight for a while now. I ordered the larger diameter sight pin the 1mm. They also come in 0.5 and 0.75mm sizes. Mine came with 2 spare fibre optic pins with another one installed. My pins were the red ones, although now I see in a lot of images online they seem to come with a green fibre optic sight pin.
As mine didn't come with a green one I decided I wanted to try a green one out. I just think that the red/orange sight pin colour is too close a colour to the yellow and red on the target face. It seems logical to pick a sight pin colour that's not on the target face.
So as my Decut Tawant was 1mm, I noticed that the Shibuya replacement fibre optic was also 1mm and very cheap at about £2 or £3 a length. So I purchased some and slipped it into my sight. It wasn't a perfect fit, but one end is thicker than the other.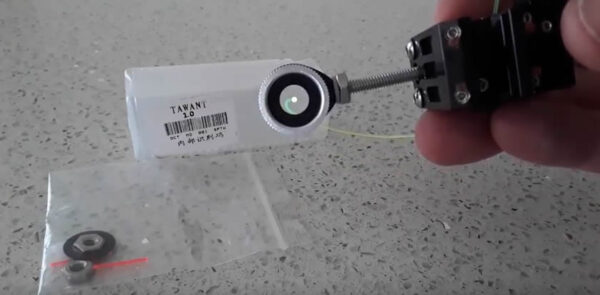 Originally I was going to cut the length at about 1 inch and just have that in the sight, but once I put the whole length in I noticed just how bright it really was. Cutting it to about 1 inch was going to make the optic a lot dimmer. So I decided to leave it as it was at full length and just push the other end into some hole on the sight block. As long as it doesn't come out when shooting I should be fine.
I have shot with a few times now indoors and I really like it. It's great if the sports hall is not well lit or like me my eyesight does not seem to be as good as it used to be.
I have made a video on this, and it's on my YouTube channel – https://youtu.be/Q7KZTYrMT6U
This is a short review of the Avalon Tec X Adjustable Duo V Bar. The Kinetic Mirage compound starter kit only came with an Avalon Tyro long rod for stabilisation. You see a lot of compound archers using either dual short rods or a single short rod angled down coming from the bow.
A lot of the more expensive higher end compounds have a separate rear stabilisation thread on them, mine does not. So the main alternative is to add a duo V bar or single bar arm into the front of the bow before the long rod goes on.
I had a look round and saw that Avalon produced a Tec X single extension bar for around £15. But then found the double V bar (Avalon Tec X Adjustable Duo V Bar) was only £25. So I ordered this, as a duo version seemed more useful for an extra £10.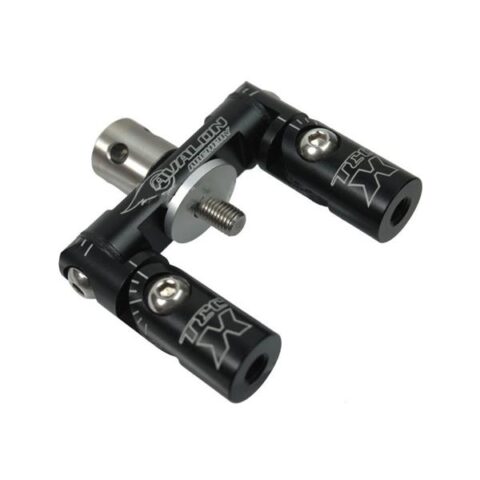 I decided that I could either use it on my recurve to try out lowering the side rods so they come down at an angle. At the moment my WiaWis 40 degree V bar is a fixed one. It also meant buying the Avalon Tec X Adjustable Duo V Bar would allow either a single or duo short rods on the compound bow.
The Avalon Tec X Adjustable Duo V Bar comes with just the main V bar and an aluminum washer. It does not come with an Allen key, although most of us have a pile of these. It weighs around 150 grams. This is about 100 grams more than my WiaWis CX2 V Bar.
The Avalon Tec X Adjustable Duo V Bar seems well made and is sturdy. The horizontal and vertical bolts lock in nicely and there is no way it is going to move around. The V bar also has markings on it which is useful for setting up the angles. With it being at the budget end for an adjustable V bar the Avalon Tec X Adjustable Duo V Bar is a brilliant product and recommended.
I have produced a short video review on my YouTube channel.

Don't forget to subscribe to my channel after watching!
Well after a couple of years of toying about buying a compound bow, I actually went and did it. I watched a couple of videos on YouTube about the Kinetic Mirage bow and it seemed OK. I didn't want anything second hand as I knew nothing about compound bows. I didn't want anything too expensive, in case I didn't get on with a compound bow. Finally I wanted a bow which was easy to alter the draw weight and draw length. I am also glad I didn't dive in and purchase a bow that was a 50lb or 60lb draw weight. To begin with I struggled with drawing 40lb.
Being a left handed archer it is always difficult to get hold of left handed archery gear. This is whether it's in stock at the retailer or even in stock at the wholesaler – with is usually Holland or Belgium. It turned out that some LH colours were in stock in the UK but not black. I wanted a black one, and SSA in Belgium were totally out of stock. But luckily Merlin had one left sitting on their shelf. Usually with a bow, especially your first I would recommend buying from a shop in person and getting it sized and set up for you. I didn't this time I just ordered online.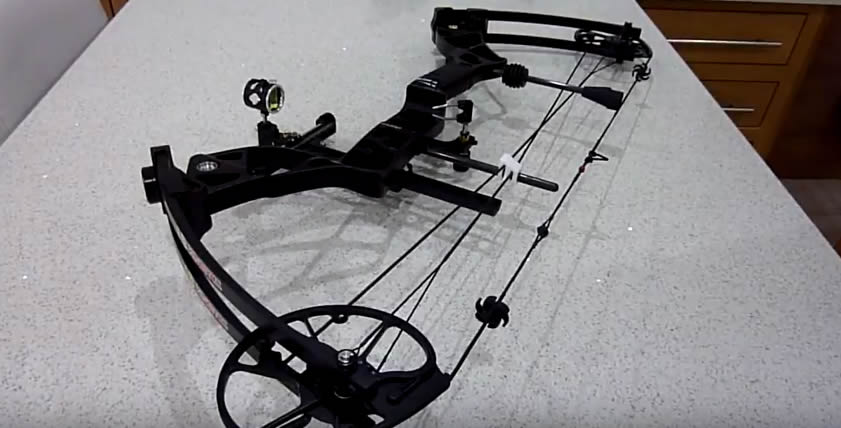 Kinetic Mirage Starter Kit Contents
The Kinetic Mirage arrived quite quickly and you certainly get a lot for your money. This includes:
Compound soft case
Avalon Tyro long rod
wrist trigger release
spare D loop material
string wax
sight and scope 4x magnification
arrow rest
Kinetic Mirage bow set to 55lbs
peep in place (loosely)
D loop fitted
Set of allen keys
Paracord wrist sling
Setting up the Kinetic Mirage
It's worth noting the instruction manual does not tell you a whole lot, except it does contain a table of the draw length settings that match the letters on the cams.
The Kinetic Mirage bow is initially set to the full 55lbs, each full turn of the bolts makes a change of 3.5lbs. You will need to change this first. Remembering not to complete a full turn of the bolts more than 7 times from totally in to totally out or vice versa.
Then I changed the draw length by moving the fiddly screws on each of the cams. I measured my draw length against a wall finger tip to fingertip and divided by 2.5. Then look in the instruction book for your draw length and the corresponding letter, but now minus 1.5 inches from your draw length and you will have your real draw length and use that corresponding letter from the instruction booklet for setting your draw length on the cams.
The arrow rest comes with two white sleeves on the prongs you can remove these by sliding them off.
One of the other things I immediately did was to wrap some tennis grip wrap around the handle. The handle is very thin and the metal felt very cold.
When it arrived I did notice some cam lean. I considered this to be a fault but retailers don't as the bow is still OK to shoot. Merlin offered to look at it, but I did not fancy a 4 hour round trip to to see them. Instead I took it to The Archery Company in Sandy. They helped me a lot to set it up and added a Teflon cable guide and fitted a new D loop. They also helped me tune it a little with a walk back test and removed the cam lean and made sure both cams were in time.
Overall
It's still early days for me and the bow, but I do enjoy firing it. I have begun scoring some target rounds as well. I can see how you could easily start to upgrade the parts of the Kinetic Mirage bow that can be removed and kept and put them onto your next compound bow.
These would be the arrow rest, sight and scope, smaller peep sight and upgraded release – perhaps a back tension or thumb trigger release.
For more on this I did create a YouTube video – find it here – https://youtu.be/ztGG7aAjNEs – and don't forget to subscribe to my ArcheryBlog YouTube Channel.
Previously I had learnt how to add arrow wraps and spin wings, but for some reason fletching arrows with feather or plastic vanes scared me. I think it was just about how to use a fletching jig.
I borrowed a Decut Nexus Jig from a friend and instantly thought it was well made and looked easy to use. It has 3 settings on the side, 90 degree, 120 degree recurve and 120 degree compound. 90 degree is for 4 vanes and 120 degree is for 3 vanes. It"s just a matter of clicking the large knob at the end and wait for the audible 'click' and you are in position ready to glue!
Make sure your arrows have their nocks on, and then place the arrow in the jog holder. I remembered to also reset both the top and bottom alignment dials of the jig before beginning. These alignment dials allow you to offset your vanes.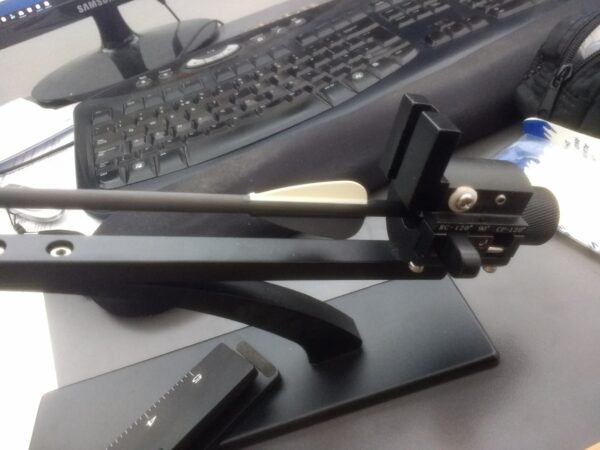 Next find out how far you want your vanes from the end of your arrows and work this out yourself. Then remember to put your vanes in the clamp at exactly the same location every time.
The hardest thing I found was not getting glue everywhere. I used an AAE Fastset glue out of a metal tube. The tube did keep clogging up, so I had to keep pushing a pin down the nozzle to free it up. I do like the gel glues as they come out slowly, and as the name implies are a gel instead of liquid. Although I am tempted to try a glue bottle, like Dragon Spit next time.
You only need a small run or a number of balls of glue along each vane when it's in the clamp. Then place the clamp in the jig holding down the clamp firmly so the vane bonds with the arrow shaft. After about 20 seconds, release the clamp and rotate the dial to move onto the next vane.
Overall, don't be scared about fletching arrows. Buy a good jig, it's then fun and easy to do. I'm looking forward to fletching some more arrows.
On Sunday 1st October 2017, the day after the CAA shoot a few of us attended the Parkfield Archers end of season handicap shoot.
Mike W, Rob, Mel, Ian C, and myself journeyed just down the road from Ely to Parkfield Archers at Wimblington to take part in their end of season handicap shoot.
Parkfield had chosen a Western round. Rob shot a Short Western (50 and 40 yards) on his American Flatbow whilst everyone else shot a standard Western (60 and 50 yards) on their recurve bows.
We set up the event tent in light rain, but managed to avoid any other rain after that, but it was very windy. At one point Mel's Danage target boss fell over with his arrow still in it – breaking it. The club did kindly contribute to the cost of replacing it. I could see why this happened though as the Danage only had floor pegs, we usually also put guy ropes on ours at the back.
I managed a personal best – mainly because I had never shot a Western round before. My final score was 688 with 28 golds.
Despite the weather Ely Archers all managed to come home with medals:
Western 2nd Place – Mike Williamson
Short Western 2nd Place – Rob Edson
Overall Archery Team – 3rd Place – Mike, Mel, Ian and Daniel
Ian also managed to win the raffle – with first choice on the raffle prizes – even though he'd gone home already.