The Winners WNS adjustable finger sling is just that. A basic finger sling that only cost a few pounds each but is great for a beginner's class or for people who are new to using a finger sling.
As you can imagine on a beginners' course, we have people with different sized hands so an adjustable finger sling makes sense, instead of having to purchase different sized finger slings in order to cater for everybody that comes along.
The WNS finger sling comes in several different colours (black, red, purple, pink, blue, green), although for club use, we decided to buy all the same colour, which was red. The sling is made up of quite a thin piece of paracord with adjustable plastic tensioners that can move up and down in order to give you a looser or tighter grip around your bow handle.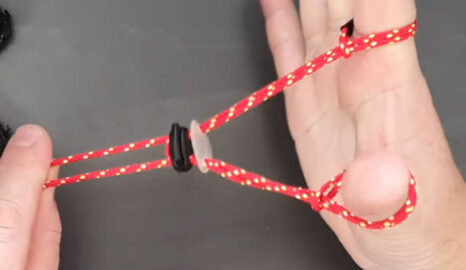 There's not much more to say about the WNS adjustable finger slings other than they just work and fit well around your fingers, are adjustable and stop you dropping your bow, they're also not too expensive. A great intro to a finger sling.
If you want to take a better look at them then how about watching my video review of the WNS adjustable finger slings on my YouTube channel.